---
Updated Format For VeryVintageVegas
Posted: 17 Mar 2015 10:35 AM PDT
Las Vegas Mid Century Modern Weekend – Tickets Are Still Available
Posted: 21 Oct 2011 12:29 PM PDT
There's still limited tickets available for the remaining events of the Las Vegas Mid Century Modern Weekend.
This year, the weekend is called "POP, BOOM – A LIFESTYLE REVOLUTION". It's being put on by ADAS the Architectural and Decorative Arts Society of Las Vegas.
I will be personally conducting and narrating the Mid Century Modern BUS TOUR on Sunday Afternoon, and I'd love for you to go with us. This year – we'll be touring thru the historic Mid Century Modern Neighborhoods of Las Vegas.
Tickets for the bus tour are $30.00 and you can get yours at the ADAS-LV website.
Saturday's panel discussions and the Cuban inspired reception at the MORELLI HOUSE are FREE and are  co-sponsored by the Vegas Valley Book Festival.
Again – TICKETS ARE AVAILABLE AT THE ADAS WEBSITE – ORDER YOUR TICKETS NOW! Last year the bus tour sold out on the day before the tour.
Below is the agenda of the remaining events that start tonight.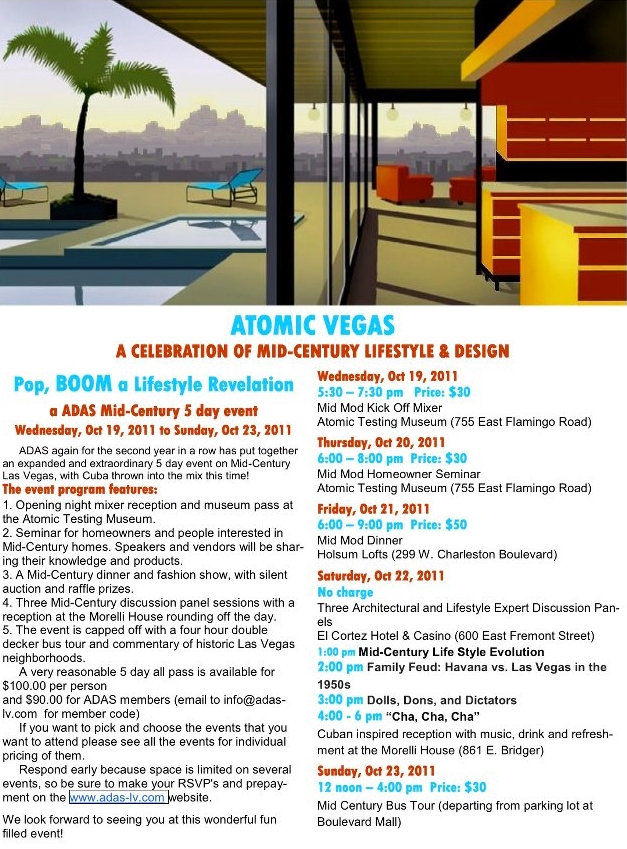 The Last Chance To See The "Hammargren Home Of Nevada History"
Posted: 15 Oct 2011 01:39 PM PDT
Dr. Lonnie Hammargren once again will hold his world famous open house on Sunday, October 30, from Noon to 5pm at the "Hammargren Home Of Nevada History"
If you've kicked yourself in the past for having missed it, or want to see it again, this could be the last chance. Neighbors and County Commission have tried to shut it down (and succeeded for the last 2 years). A recent court ruling has cleared the path for it to happen once again.
This year there will be a donation of $10.00 per person. Shuttle bus service is available from the shopping centers at Flamingo and Sandhill.
The address is 4318 Ridgecrest Drive. 1 block south of the corner of Sandhill and Flamingo
Lonnie made a little video to give you a taste of what it's all about.
I'll be volunteering, once again as a docent – Â so seek me out and say hello.
j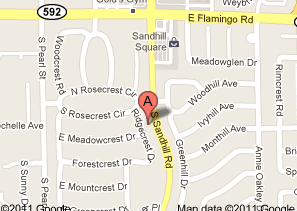 Here's the map. Even the street view is fun