---
Braewood Heritage Townhome For Sale – $149,900
Posted: 27 Jan 2016 11:29 AM PST
One of my favorite Vintage townhome communities is Braewood Heritage. Braewood is a large gated community of 400 homes located near  Desert Inn Road and Pecos Road. There's 3 pools, playgrounds, park space, tennis courts RV/Boat parking, a clubhouse There's 3 basic floor plans including a 2 bedroom single story and a couple of  variations for the 2-story units. Braewood Heritage has traditionally been one of the best managed HOA communities in town. The monthly fees have always been among the lowest.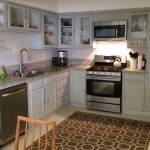 We've just listed an adorable one story end unit that even has an extra 150 sf addition onto the master bedroom. It could be used for exercise equipment, a home office or anything else you might imagine.
All the photos of this beautiful unit, as well as all the current properties for sale in Braewood Heritage can be found here.
Do you know someone who's thinking of buying in Vintage Vegas? Have a home to sell in one of the Vintage Las Vegas Neighborhoods? Give me a call or send an email. No other agent in Las Vegas understands Vintage and Historic homes the way I do. 702-378-7055 jack@unclejack.com
A "Time Capsule" Mid Mod Home For Sale In Las Vegas
Posted: 14 Sep 2015 04:44 PM PDT
Of all the many Vintage Homes in the Las Vegas Historic Neighborhoods that I've represented (either as listing agent or buyer's agent) – this one is my favorite. We put it on the market this morning for $350,000.
Or, I could have led with this:
The home most talked about in the recent Mid Century Modern Home tour from Nevada Preservation Foundation was this amazing time capsule in Downtown Las Vegas.
It's truly one of the best preserved of any of the Las Vegas Vintage Homes that I've have the pleasure to represent. Built in 1963, it has only had 2 owners – and both of them were gentle and loving with this classic custom home. Neither of them added anything on, they didn't remodel, and they certainly did not destroy the Mid Century vibe. Now it's time for a new owner – and I know there's going to be a line out the door.
If you'd like to discuss the possibility of owning this Classic Vintage Home…. call me or email me. I'm just around the corner and will be happy to make an appointment to show it.
Everything that people ask me for in their Mid Century Modern Home is represented in this amazing property. See for yourself:
30 feet of glass wall out to the oversized covered patio!
An original functional kitchen that has all the excitement we expect from a Mid Mod.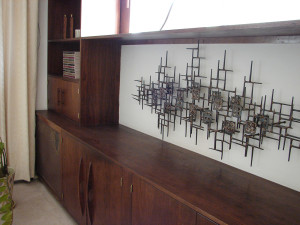 Built in bookshelves, stereo cabinets and storage!
Original bathrooms have haven't been beaten to death with.
ANYTHING BUT BEIGE!
Give me a call if you have a home to sell or are shopping for your new pad. No one knows Vintage Vegas like Uncle Jack does. 702-378-7055 or email me – Jack@Unclejack.com
Restoring A Vintage Mid Century Ranch Home In Las Vegas
Posted: 31 Jul 2015 01:04 PM PDT
UPDATE: OPEN HOUSE SUNDAY AUGUST 2 from noon to 2pm.  This TIME – CAPSULE home sold without many people getting to look at it. (Like most of my listings – it only took a few days)
I do want to show it off. I'm holding a meet and greet open house this Sunday August 2, 2015 from 12 noon to two pm. 1245 S. 15th Street at the corner of Franklin Ave. 
Stop by and see a great example of how mid century modern and vintage homes can be given new life (without turning them into beige on beige summerlin want to be's. There's more photos in the featured property section in the right side bar. 
Las Vegas real estate buyers are always asking me to find them a retro or vintage home that is as original as possible. It's not an easy task. With the homes in vintage and historic neighborhoods being 50 and 60 and 70 years old, there's been lots of opportunities for the original features and fixtures to have been changed, removed, or just simply used up. I always recommend trying to save original features when ever possible, and most of my clients cherish their pink or blue or pastel bathrooms, colorful ceramic tile countertops, built-ins, lighting fixtures and other original features when they are still there.
A few months ago, I was approached to be be the listing agent for a home that still had most of its original kitchens, bathrooms, and lots of little details such as the intercom, built in closets and dressers, and beautiful natural wood cabinetry. It hadn't been painted in years, and still had 40 year old carpet. The electric and plumbing was a mess. It even still had its screw in fuse panel.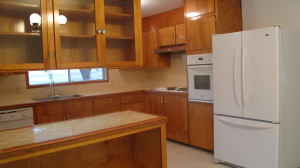 The owner moved into the home in 1967 when he was in High School, and now he's inherited it. What to do? Sell to a flipper so they could rip out the original vintage fixtures? It was the family home. It deserved better. The owner decided to do a restoration, and asked me to supervise upgrading of the infrastructure as well as the preservation of everything that could be saved.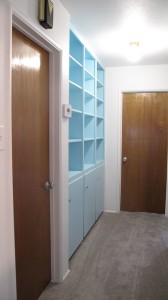 The end result is that we saved every vintage and original feature. The tile work was regrouted, the cabinets re-varnished, and best of all – there's no beige anywhere! It's located at 1245 15th Street, at the corner of Franklin Avenue in the Ridgeview neighborhood of Downtown Las Vegas. Even though the home is already under contract, we're holding a meet and greet open house so that people can see it. Sunday August 2 from noon to two pm, and we invite you to stop by and see for yourself. We're pricing this 3 bedroom, 2 bath, 1472 sf home at $165,000. At my suggestion, the seller refused to look at any offers from investors.
I'm happy to report that the home sold in 2 days, and will be owner occupied.
If you have a vintage, mid century, historic home that you want to sell – I hope you'll call me. I get the job done!
Updated Format For VeryVintageVegas
Posted: 17 Mar 2015 10:35 AM PDT