Posted by Tito on Saturday, November 19, 2016
at 7:42 AM
---
A Beautiful Renovation In The "McNeil" Neighborhood Of Vintage Las Vegas
Posted: 24 Jan 2015 11:19 AM PST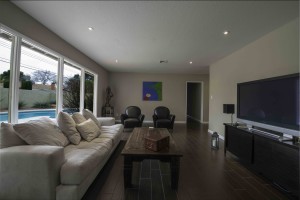 One of the most popular of all the Vintage Las Vegas Neighborhoods is McNeil. It's a large subdivision – west of Rancho Drive between Charleston Avenue and Oakey Blvd. It's a marvelous blend of ranch modern, desert modern and a sprinkling of traditional styled homes. It's highly sought after – not only because it's a beautiful neighborhood full of classic mid century modern homes – but because of it's location. It's only minutes from downtown proper, the strip, the hospitals and the arts district.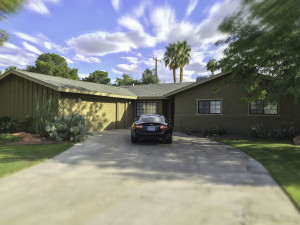 My new listing – 2917 Burton Avenue – has  had a beautiful renovation during the last 4 years. Though this seller has flipped many homes – this is his personal residence, and he went all out to make it extra special. Every surface of the home has been redone – both inside and out. All the windows are dual pane, all the finishes were carefully picked, the pool has been replastered, the landscape is immaculate.
All of the photos can be seen in the featured property widget in the left column, or by clicking here for the flyer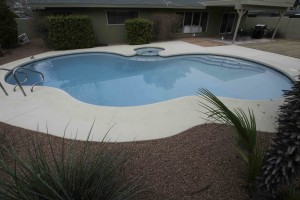 It's a funny thing – so many of us are glued to HGTV – watching homes get updated and and rehabbed in just one hour. So many of my clients want a home like that – but they know damn well it's a huge undertaking. Buyers want the "finished product" but the idea of living in a construction zone, making the required endless number of decisions, having the cash required to pull it off – are all daunting and scary tasks.
Of course – one of the hardest things is finding a time-capsule original home, one where the kitchens and bathrooms are still original and in good enough condition that they can be saved and restored. Far too many of those got flipped over the last 10 years and perfectly fine original Mid Century Modern features got ripped out for the sake of expediency and lack of knowledge.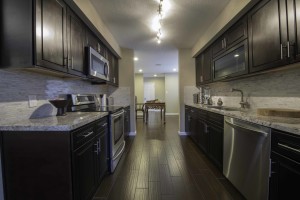 This sharp  stylish renovation, however , maintains the original concepts of Mid Century Modern. The clean lines, the lack of superficial ornamentation, the use of natural material, the merging of the indoor and outdoor living space are all still there – but with a 21st century vibe.
Whether you're looking for the move in ready finished product or a project house to do yourself – GIVE ME A CALL and we'll put a plan together for you.
HERE'S ALL THE CURRENT LISTINGS IN McNEIL
Hiding In Plain Site – Vintage Las Vegas Style
Posted: 20 Nov 2014 11:36 AM PST
Review Journal Tells The Tale of The Historic and Vintage Neighborhoods Of Las Vegas
One of my goals in life has been to get Vintage Vegas known to the world. Some say it's still hiding there in plain site. It's been a while since it's had any publicity, but the Review Journal took care of that this past weekend, and gave our Historic Neighborhoods and Mid Century Modern homes some front page exposure. The article ran in the "Real Estate Millions" section.
Vintage Vegas isn't as obscure as it once was. People all over the valley now know it's here.
I'm the one who's been hiding out. Sure I'm still answering the phone and selling lots of great homes – but it's been hard to make lemonade during the last few years as life kept handing me lemons. I just haven't been showing up to all the art and restaurant and business openings. I've even skipped a few of the cocktail parties!
Once upon a time, I used to love blogging. The blog was to help inform people about Vintage Las Vegas and Mid Century Modern Homes and Neighborhoods in Las Vegas. The internet is supposed to find this info and deliver it on demand. Potential buyers and sellers find the info and call me to help with their real estate needs. They still do. It works. What hasn't work well anymore is my sitting down and typing posts and editing pictures. Last night, I decided to get over it, and just do it.
New On The Market in Paradise Palms –
This blog is also about sharing information on my listings – such as my new listing in Paradise Palms – 1418 Cayuga Parkway. It's one of the many delightful, colorful and cheerful Mid Century Modern Homes in Las Vegas. It's  priced at 189,900. All the excitement of Mid Mod is there – and it's been updated for today's demands – newer roof, newer AC, dual pane windows are just the start. All the pictures and listing information can be found here.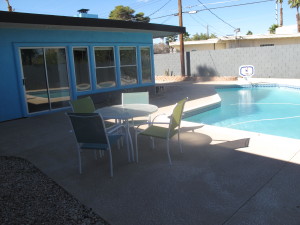 The Paradise Palms neighborhood contains the biggest concentration of Mid-Century Modern homes in Las Vegas. I've written about it many times in the past and will do so again. Paradise Palms has a very active blog about the neighborhood which also contains great information.
NOVEMBER AND DECEMBER are actually great months to buy a home. Lot's of your competition drops out for the holidays, and the sellers who stay on the market during the holidays tend to be serious about selling.
Drop me an email- jack@unclejack.com  or give me a call -702-378-7055  if you're thinking of selling your Vintage Las Vegas Home – or if you're ready to pull the trigger and buy one of your own.
The Loving Restoration Of A Mid Century Modern Home In Paradise Palms – Las Vegas
Posted: 22 May 2014 03:38 PM PDT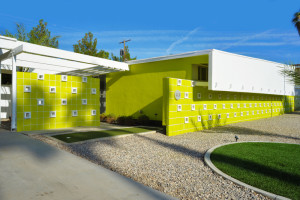 Every time I drive someone through Paradise Palms – the home that most gets them excited is the "Caddyshack". They say – "I want that one".
Someone is going to get a chance soon.
You may know it – it's the green and white one on Seneca Drive just south of Desert Inn. It's a model 7B of the Palmer and Krisel series built by Molasky Construction.
The current owners Cary and Mary-Margaret Stratton, have been dedicated to the Mid Century Modern restoration movement for many years. They worked with the LA Conservancy's Modern Committee. They started the Atomic Age Alliance here in Las Vegas. They published a tour book of Las Vegas Modern Architecture. And now – they've restored the Caddyshack to it's original concept, feel and energy.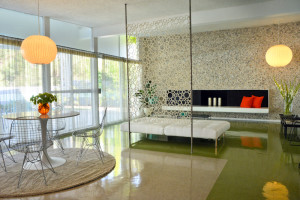 There are a lot of Mid-Century homes in Las Vegas that still look original from the outside. Too many of them have been "updated, upgraded" or otherwise modified to look nothing like they did when they were new. This isn't one of them. The inside is even better. If you love the time capsule homes you see regularly in Atomic Ranch or at Retrorenovation, you'll really appreciate the thought and effort that was put into this restoration.
I will be putting it on the market tomorrow. You might want to save the date for the public open house — Sunday June 8th, 2014 from noon to 4 pm.
We've created the video below as well as a separate website – LVCADDYSHACK –  to demonstrate the vibe and the energy of this incredible home.

May is Historic Preservation Month In Las Vegas and Nevada
Posted: 01 May 2014 01:06 PM PDT
May is always one of my favorite months. Not only is the weather "perfect" – it's also Historic Preservation Month. There are lots of events, a rodeo, tours, concerts, lectures, parades, and more. Below you'll find the scheduled events and links to the various websites.
HELLDORADO!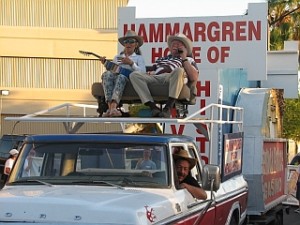 Let's start with the most local of events – Helldorado! There's the parade, the rodeo, the mustache contest and more. I'll be riding in the May 17 parade with the Las Vegas Historic Preservation Commission. They've moved the rodeo and carnival to Symphony Park this year. Here's the link to all Helldorado events.
Nevada Preservation Foundation
Nevada Preservation Foundation has a 4 event lecture discussion series called called Mid Century Modern Architecture and Preservation. I'm on the board of Directors of this wonderful new non-profit organization. While you're at their website – I encourage you to join as a member to help us further our educational and advocacy work.
The four events: "Richard Neutra: What the Neighors Thought Was Wrong" on May 6th; "MCM Interiors: A Nod to Mid Mod" on May 15; "The Mid-Century Home: Panel & Discussion" on May 22; and a "Film Screening & Discussion: Visual Acoustics: The Modernism of Julius Shulman (2009)" on May 22
The Junior League of Las Vegas Presents 'Alive from the Sands Copa Room'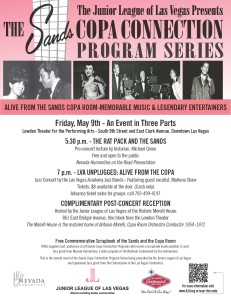 Friday, May 9 • Lowden Theater of the Performing Arts • Las Vegas Academy High School • 315 S. 7th Street 5:30 p.m. – THE RAT PACK AND THE SANDS • Pre-concert lecture by historian, Dr. Michael Green. Free and open to the public • Nevada Humanities on the Road Presentation
7 p.m. – LVA UNPLUGGED: ALIVE FROM THE COPA  Jazz Concert by the Las Vegas Academy Jazz Bands featuring guest vocalist, Marlena ShawTickets: $8 available at the door. (Cash only) • Advance ticket sales for groups: call 702-499-4197
COMPLIMENTARY POST-CONCERT RECEPTION Hosted by the Junior League of Las Vegas at the Historic Morelli House • 861 East Bridger Avenue
State of Nevada Office Of Historic Preservation: "NEVADA'S SESQUICENTENNIAL – 150 YEARS OF STATEHOOD
There are events in all parts of the state celebrating the 150th Anniversary of statehood for Nevada. The whole schedule (including some events already mentioned)  is here
One local highlight is:
Vintage Vegas Food Tour
Vintage Vegas Food Tour, May 10 and 24,  4:00 – 7:00 p.m., Downtown Las Vegas
This combination walking and bus tour, guided by Vegas Valley Food Tours, will take you to five vintage restaurants that have withstood the test of time in downtown Las Vegas.  Each restaurant, from a bygone era, has been part of the Las Vegas community for at least 25 years. Along the way, you'll be treated to recorded interviews of restaurant owners and workers, provided by Nevada Humanities.  Between tastings, a local tour guide will highlight historic architecture and cultural features that put Las Vegas on the map. When it's over, you'll have a little bite of Las Vegas history both in your mind and your stomach.  Click here for a brochure with tour route. Tickets are $109 each and are available through Vegas Valley Food Tours beginning April 25th.
A Big Thank You To All Who Love Mid Century Modern Homes and Las Vegas Historic and Vintage Neighborhoods
Posted: 18 Apr 2014 01:04 PM PDT
There's a lot of people who I owe a big thank you to. Some have been clients who have hired me to help them buy or sell their Mid Century Modern Homes in Las Vegas. Some live nearby in the historic neighborhoods of Las Vegas. Some I've met and some I haven't. Most of them are being thanked for making the world, Las Vegas, or their neighborhood a little bit better.
Many of them have been fans of VeryVintageVegas in the past. Lots of them tell me (on a very regular basis) that they miss my blogging. Some even tell me over and over again. I'm actually starting to do something about it. That's why you're reading this. Here we go again.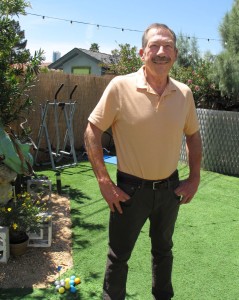 I hope the blogging habit can stick as well as the change in diet and exercise that I've undertaken over the last 10 months. I'm the leanest and strongest I've ever been in my life. I went through the entire winter without even a single moment of chest pain. I haven't been 175 pounds since 8th grade. All the friends who encouraged me and complimented me and were astounded watching the changes that I've made to my shape and to my health are officially thanked!
In case any of you were wondering – it's been this thing called healthy eating and exercise that did it. Who knew?
One night at 4am – I couldn't sleep from the heartburn of a midnight pizza. I decided I couldn't live like that anymore and decided to do something about it. I started by swearing off fast food drive-thrus. I walked into a downtown gym to see what they were about. I drank the kool-aid and signed up for their eating program and started with a personal trainer. I graduated to group "cross fit" style exercise at REAL RESULTS FITNESS in downtown Las Vegas. I am very grateful to Paul, Brandon, Lonnie, Rex, Marcie and Heidi and all the staff at a really great place to get fit. It really does work.
A Few Of My Heroes In Vintage Vegas Get Special Mention For Their Love Of Las Vegas History, Mid-Century Modern Architecture And The Historic Neighborhoods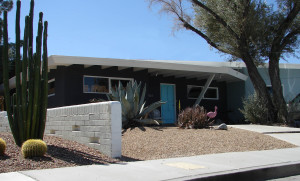 Once upon a time – (about 15 years ago) I thought I was the only one who appreciated mid-century-modern architecture, and the established, mature (and now historic) neighborhoods. One by one – an army of allies showed up who loved them as much as I do. To name a few – and please know there are plenty of others – Heidi Swank who recently founded Nevada Preservation Foundation; Brian Paco Alvarez who blogs and facebooks like no other; Terry Wilsey; Mark and Bill from Retro Vegas; Clay and Denise Heximer and David Cornoyer from Paradise Palms; Cary and Mary-Margaret Stratton; Mark Adams from VegasTodayAndTomorrow; Dan Roberts and Mellisa Clary who started The Huntridge Foundation;  Everyone who started a neighborhood association; or created a Facebook Page for one of them; bought a bank owned or beat up home and made improvements. It's a really long list – but these folks need to be thanked.
I'll tell you this – I'm real happy with the way things are turning around in the historic neighborhoods. Things were looking pretty shabby at the height of the depression in Las Vegas. There's still lots of work to do – but there's plenty of people working toward the same end. I'll even say it – the whole Zappos Downtown Project effect is great and I thank them as well.
Well – that's 2 posts in 3 days! They say it takes 90 days to establish a new habit. I'm looking forward to being in the habit again.
Cinema In The Circle – At Huntridge Circle Park
Posted: 14 Apr 2014 12:49 PM PDT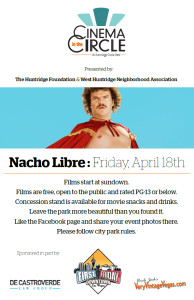 Jack LeVine – THE Realtor for Mid Century Modern Homes and Historic Neighborhoods in Las Vegas is pleased to sponsor this years Movies Series – "Cinema in the Circle"
The 2014 Movie Series is starting up and I'm pleased to be one of this year's corporate sponsors. The first event is the 2006 comedy "Nacho Libre" starring Jack Black. The first event of this years season is FRIDAY, APRIL 18, 2014. The show starts at sundown (approximately 7pm this month).–
The Cinema in the Circle series is FREE to the public. The movies are shown outdoors at The Huntridge Circle Park on Maryland Parkway – just south of Charleston Ave. Bring a blanket or lawn chairs. The snack bar will be open and proceeds will benefit THF.
If you're not a downtown resident and haven't explored the historic neighborhoods of Las Vegas – I suggest spending an hour or two driving around the neighborhoods surrounding Huntridge Circle Park. You'll love the Mid Century Modern Architecture of the homes you find.
The Huntridge Foundation and the West Huntridge Neighborhood Association are producing the series.
The Huntridge Foundation
The mission of the Huntridge Foundation is to preserve the architectural integrity, history and culture of the Huntridge Theatre and the surrounding community.
The foundation is pending 501 (c) 3 nonprofit organization tax exemption status and is registered in the state of Nevada. The community movement is led by Las Vegas residents seeking to restore the beauty and splendor of the Huntridge Theatre's streamline moderne architecture to the iconic Las Vegas landmark. The goal is to promote awareness of the theatre's potential for operating such diverse cultural programming as cinematic films, performing arts theatre, live entertainment, special event venue space and all-age music shows, among other events.
The Huntridge Foundation's efforts include the following:
Performing research to document and archive the historic significance of the building, identify entertainment acts that played there, as well as discover longtime Las Vegas residents who attended the theatre;
Conducting interviews and creating storied exhibits using eyewitness accounts and memorabilia from longtime Las Vegas residents who performed, worked and attended the Huntridge Theatre;
Producing local events and applying for grants to raise funding for the foundation's work documenting the theatre's history and significance.
You Can also follow The Huntridge Foundation on their facebook page.
Posted: 23 Nov 2011 02:35 PM PST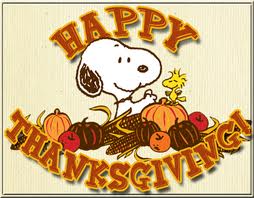 I wanted to share a small message of thanks to all of you who have managed your way through this most challenging year and supported me through mine. Thanksgiving is one of my favorite Holidays. There is no division due to religion, it is not for one single group, and there are no conflicts. Thanksgiving is for all of us. All you need is to be thankful. And there is so much to be thankful for, although it may not be so easy to see at times.
We sometimes stay focused on the things that are wrong or that need improvement…and yes, things can always be better. And that view is needed at times, so we can constantly improve. But we also need to take a breath, a step back, and count all of our blessings. It's not just the things we have; it's also the problems, issues, or heartaches we don't have…because things could be a lot worse.
I appreciate your friendship and loyalty, and I am truly thankful.
Posted by Tito on Friday, November 11, 2016
at 5:55 AM