---
Hiding In Plain Site – Vintage Las Vegas Style
Posted: 20 Nov 2014 11:36 AM PST
One of my goals in life has been to get Vintage Vegas known to the world. Some say it's still hiding there in plain site. It's been a while since it's had any publicity, but the Review Journal took care of that this past weekend, and gave our Historic Neighborhoods and Mid Century Modern homes some front page exposure. The article ran in the "Real Estate Millions" section.
Vintage Vegas isn't as obscure as it once was. People all over the valley now know it's here.
I'm the one who's been hiding out. Sure I'm still answering the phone and selling lots of great homes – but it's been hard to make lemonade during the last few years as life kept handing me lemons. I just haven't been showing up to all the art and restaurant and business openings. I've even skipped a few of the cocktail parties!
Once upon a time, I used to love blogging. The blog was to help inform people about Vintage Las Vegas and Mid Century Modern Homes and Neighborhoods in Las Vegas. The internet is supposed to find this info and deliver it on demand. Potential buyers and sellers find the info and call me to help with their real estate needs. They still do. It works. What hasn't work well anymore is my sitting down and typing posts and editing pictures. Last night, I decided to get over it, and just do it.
New On The Market in Paradise Palms -
This blog is also about sharing information on my listings – such as my new listing in Paradise Palms – 1418 Cayuga Parkway. It's one of the many delightful, colorful and cheerful Mid Century Modern Homes in Las Vegas. It's  priced at 189,900. All the excitement of Mid Mod is there – and it's been updated for today's demands – newer roof, newer AC, dual pane windows are just the start. All the pictures and listing information can be found here.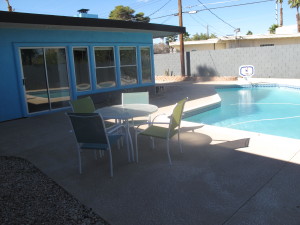 The Paradise Palms neighborhood contains the biggest concentration of Mid-Century Modern homes in Las Vegas. I've written about it many times in the past and will do so again. Paradise Palms has a very active blog about the neighborhood which also contains great information.
NOVEMBER AND DECEMBER are actually great months to buy a home. Lot's of your competition drops out for the holidays, and the sellers who stay on the market during the holidays tend to be serious about selling.
Drop me an email- jack@unclejack.com  or give me a call -702-378-7055  if you're thinking of selling your Vintage Las Vegas Home – or if you're ready to pull the trigger and buy one of your own.