---
The Loving Restoration Of A Mid Century Modern Home In Paradise Palms – Las Vegas
Posted: 22 May 2014 03:38 PM PDT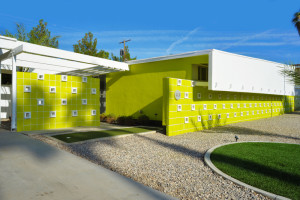 Every time I drive someone through Paradise Palms – the home that most gets them excited is the "Caddyshack". They say – "I want that one".
Someone is going to get a chance soon.
You may know it – it's the green and white one on Seneca Drive just south of Desert Inn. It's a model 7B of the Palmer and Krisel series built by Molasky Construction.
The current owners Cary and Mary-Margaret Stratton, have been dedicated to the Mid Century Modern restoration movement for many years. They worked with the LA Conservancy's Modern Committee. They started the Atomic Age Alliance here in Las Vegas. They published a tour book of Las Vegas Modern Architecture. And now – they've restored the Caddyshack to it's original concept, feel and energy.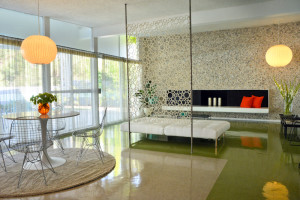 There are a lot of Mid-Century homes in Las Vegas that still look original from the outside. Too many of them have been "updated, upgraded" or otherwise modified to look nothing like they did when they were new. This isn't one of them. The inside is even better. If you love the time capsule homes you see regularly in Atomic Ranch or at Retrorenovation, you'll really appreciate the thought and effort that was put into this restoration.
I will be putting it on the market tomorrow. You might want to save the date for the public open house — Sunday June 8th, 2014 from noon to 4 pm.
We've created the video below as well as a separate website – LVCADDYSHACK –  to demonstrate the vibe and the energy of this incredible home.