---
Cinema In The Circle – At Huntridge Circle Park
Posted: 14 Apr 2014 12:49 PM PDT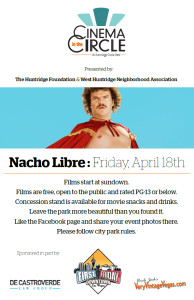 Jack LeVine – THE Realtor for Mid Century Modern Homes and Historic Neighborhoods in Las Vegas is pleased to sponsor this years Movies Series – "Cinema in the Circle"
The 2014 Movie Series is starting up and I'm pleased to be one of this year's corporate sponsors. The first event is the 2006 comedy "Nacho Libre" starring Jack Black. The first event of this years season is FRIDAY, APRIL 18, 2014. The show starts at sundown (approximately 7pm this month).-
The Cinema in the Circle series is FREE to the public. The movies are shown outdoors at The Huntridge Circle Park on Maryland Parkway – just south of Charleston Ave. Bring a blanket or lawn chairs. The snack bar will be open and proceeds will benefit THF.
If you're not a downtown resident and haven't explored the historic neighborhoods of Las Vegas – I suggest spending an hour or two driving around the neighborhoods surrounding Huntridge Circle Park. You'll love the Mid Century Modern Architecture of the homes you find.
The Huntridge Foundation and the West Huntridge Neighborhood Association are producing the series.
The Huntridge Foundation
The mission of the Huntridge Foundation is to preserve the architectural integrity, history and culture of the Huntridge Theatre and the surrounding community.
The foundation is pending 501 (c) 3 nonprofit organization tax exemption status and is registered in the state of Nevada. The community movement is led by Las Vegas residents seeking to restore the beauty and splendor of the Huntridge Theatre's streamline moderne architecture to the iconic Las Vegas landmark. The goal is to promote awareness of the theatre's potential for operating such diverse cultural programming as cinematic films, performing arts theatre, live entertainment, special event venue space and all-age music shows, among other events.
The Huntridge Foundation's efforts include the following:
Performing research to document and archive the historic significance of the building, identify entertainment acts that played there, as well as discover longtime Las Vegas residents who attended the theatre;
Conducting interviews and creating storied exhibits using eyewitness accounts and memorabilia from longtime Las Vegas residents who performed, worked and attended the Huntridge Theatre;
Producing local events and applying for grants to raise funding for the foundation's work documenting the theatre's history and significance.
You Can also follow The Huntridge Foundation on their facebook page.