| | |
| --- | --- |
| | |
---
Open House Review: 6 Racing Wind
Posted: 04 Jun 2013 05:00 AM PDT
Woodbridge 5 bedroom 'cottage'
6 Racing Wind $865,000
Woodbridge comes in many flavors - close to the lake, inside the loop, single family or condo. This week I found one that I had not seen before, a single family detached "cottage," on a greenbelt, with five bedrooms and 3.5 baths. This cottage that grew offers some surprises.
Significant Numbers: New to the market (about 12 days), this Cottage Homes two level single family house has 2,285 sq. ft. with 5 bedrooms and 3.5 baths. HOA dues are $137 and $/sq. ft. is $379. The lot size is 3,049 sq. ft. There is no Mello Roos.
Close-up: Walking up the greenbelt it's easy to spot the cottage with the white picket fence and huge willow tree in front. Stepping inside, there is a good sized living room with custom fireplace and vaulted ceilings to the left, a staircase straight ahead, and a hall leading to the newly expanded portion of the home on the right.
Heading down the hall there is also a room off to the left that can be a formal dining room. It is now being used as an office. Next, there is a casual dining area in the corner, family area with built-in media center and granite trimmed fireplace, and upscale kitchen with granite counters, island with barstools, double oven, 5-gas burners, and recessed cabinet lighting. Crown moldings, ceiling fans and skylights complete the area.
On the right, sliding doors lead to a side yard patio that has been turned into a cool retreat with a River Rock planter and bamboo accents.
Upstairs there are 5 bedrooms, including the master with walk-in closet, and 3 baths.
Specifics:
Bedrooms, 5
Baths, 3.5
Detached, no common walls
Forced air heat
Ceiling fans, skylights
Association pool and spa
Laundry in garage
Attached double garage with keypad entrance
Two parking spaces
Irvine Unified School System
What will be considered here? A secluded Woodbridge location near South Lake and the Blue Lake Swim Club and park, a good sized addition resulting in 5 bedrooms and 3.5 baths, with a large family room area will make this property competitive. The tightness of lot space and outdoor private space will subtract a bit. Also, some buyers will be looking for a bedroom downstairs.
Who will move in? A good sized family looking for top schools, great recreation and lots of bedrooms, plus study areas, might be drawn to this home. Active families who entertain, have lots of guests or grandchildren visiting, and want some extra space for hobbies, music, etc. might be interested too.
Recent listings: 3 Onxy, $729,900 ; 12 Silkleaf, $881,000; Recent sales: 23 SunRiver, $1,060,000; 5 Spruce Tree Lane, $726,000
Sizzling, Soaring, and Summery!
Posted: 03 Jun 2013 09:41 AM PDT
Inventory on 06/01/2013: 348.
This January, when the market started bubbling up, the inventory flirted with 200s. We wondered if the inventory will go to 150s, and then calculated the real inventory with the new homes The Irvine Company released. It was a confusing market. People are buying new houses and lapping up the resales for all cash deals as soon as they debuted on the market. I still remember the open house in the neighborhood that felt like Korean culture festival. There were so many people, it created a traffic jam of sorts for the residents in this little cul-de-sac.
But with inventory at 348 and rising, will the summer bring in a change? Have people realized that this is a short burst of unusual appreciation that will settle down? Here is West Irvine, making the most of the changing economic scenery. During the downturn, West Irvine prices suffered a lot, and being one of the neighborhoods bordering Tustin the prices ended up being confused like the teenage of the house- they didn't know where they could fit in, Irvine prices or Tustin regular prices or Tustin Ranch. Many got great deals, one of the Talk Irvine Realtors and a family close to us included.
Usually when I see West Irvine pictures on Redfin, the only thing exciting about them is the presence of a backyard and the prices. The design details, the floor plans, the exterior design- the condominiums of West Irvine have an edge on the Single Family Residences. But the price is right and the village is almost right for two thousand square feet home with a backyard. Here is 35 Boulder Creek, the house with the owner's touch, and 7900 SF of backyard.
35 Boulder Creek Way, Irvine CA 92602
Listing Price: $779,900
Beds/ bath: 4 Bedrooms/ 2.5 baths
Year Built: 1998
Lot Size: 7900 SF
Price/ SF: $390
HOA Dues: $0
Estimated mortgage: $3631/ month
Builder's Tract Code: Heritage - Rushmore A
Compared to other properties in the market in West Irvine, this is a good deal. A backyard that size is something un-Irvine. Price/SF is in line with the rest of the listings. The property has posted a $20,000 drop in listing price since it was listed- was it because the owners want to get a competitive edge and sell faster, or is it the changing market- it's hard to tell at this point. Many people are holding back their buying plans given the sudden market surge. Many are moving to surrounding areas feeling outpriced in Irvine. Million dollar homes with views and vistas, and almost good school district are luring new buyers. But Irvine still is the unicorn, almost mythical-magical with fairy dust sprinkled even at its borders. Bragging rights do come with a price tag.
Speaking of bragging rights, how many people have tried to convince you that their detached condo is in fact a Single Family Residence, and their Realtor told them so? My count is two. Both were in North Park, both owners of San Simeons.
Here is one listing I very much suspect is a detached condo like other San Simeons.
59 Meadow Valley, Irvine CA 92602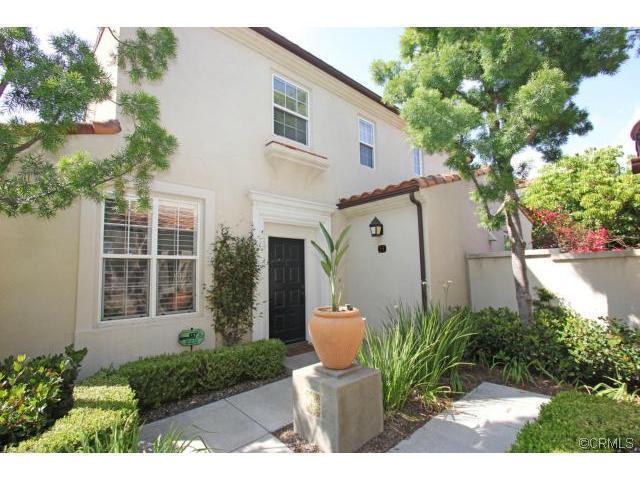 But 55 Meadow Valley (sold $10,000 above list price) was also listed by the same realtor, and was listed as a single family residence. Recently in one of the Talk Irvine discussions, people were questioning the ethical aspect of listing wrong schools and telling buyers that the kids can be sent to IUSD schools even though the schools for the property are TUSD with open enrollment. In my opinion listing a detached condominium as a single family residence is also unethical. I haven't verified if the San Simeons on Meadow Valley are single family residences are not, but usually two HOA dues are for condominiums.
We will discuss that on Talk Irvine!
You are subscribed to email updates from Irvine Housing Blog
To stop receiving these emails, you may unsubscribe now.
Email delivery powered by Google
Google Inc., 20 West Kinzie, Chicago IL USA 60610