| | |
| --- | --- |
| | |
---
Open House Review: 2 Camanero West
Posted: 02 May 2013 05:00 AM PDT
Last summer, I reviewed 31 Entrada West, a three bedroom house in Northwood's Park Paseo neighborhood. The house sold on September 28, 2012 for $620,000 ($324 per square foot; asking price was $649,000). This week, exactly seven months later, I toured 2 Campanero West, the same model home but with a reversed floor plan. As we have seen, the market has risen significantly in the last several months. This property is listed at $725,000.
The basics:
Asking Price: $725,000
Bedrooms: 3
Bathrooms: 2.5
Square Footage: 1915
Lot Size: 4,092
$/Sq Ft: $379
Days on Market: 17
Property Type: Single Family Home
Year Built: 1980
Community: Northwood, Park Paseo
HOA dues are $85 per month and there are no Mello Roos.
This is a corner lot, backing to Hicks Canyon (a non-residential street) and right alongside where people enter the street. It is a quiet, cul-de-sac street that has direct walking access to Santiago Hills Elementary School.
Lighter flooring and cabinetry do a lot to brighten the house, as many rooms don't get enough natural light. The front living room has light colored carpet, vaulted ceilings, and two large windows. The carpet here, and throughout the house, is in good condition, but buyers will likely want to replace it soon. Across the entry way, the dining room has matching carpet, high ceilings, and a sliding door out to the L-shaped yard.
The family room at the back of the house was very cluttered, making it hard to get a good sense of the size and feel of the room. I did notice that the ceilings hadn't been scraped and overall, the room is pretty dark. This room also has the same carpet and has a tile fireplace.
This model has a very small and narrow kitchen. While the one at 31 Entrada West was very dark, this one is brighter, largely attributed to white cabinets and light colored tile floors. The garden window brings in some natural light from the bright backyard. The kitchen's only updates are newer white appliances, but it still has the original white tile counters, panel lighting and plain white cabinets. It is clean and well maintained, but definitely not modern.
The backyard has a patio, with the rest of the space covered by gravel and several large, raised garden boxes. There aren't any tall trees, so the yard is bright, but it won't block any sound from Hicks Canyon.
Upstairs, there are three bedrooms, all with light-colored wood floors (the hallway is carpeted). The two secondary bedrooms are small and both face the front of the house. Each one has a two-door, mirrored closet. They share a bathroom with a single sink set into a long counter. The faucet is newer, but most of the bathroom is original. Like the kitchen, it is mostly in good shape but looks dated.
The master bedroom has smooth, vaulted ceilings and a large walk-in closet. It is one of the smallest master bedrooms I have seen. The bathroom has a stall shower and dual sinks with new hardware and cabinet pulls. Nothing else in the bathroom has been upgraded.
Like 31 Entrada West, this home is in good condition, but has very few upgrades and plenty of room for improvement. It does have nice plantation shutters in some rooms, but all of the windows are original. I liked 2 Campanero West a little bit more, largely because it felt brighter. The corner lot allows for a slightly bigger yard, but puts it in a less desirable location.
Has the market changed so much that you would pay $100,000 more for the same model (also without any remodeling) just seven months later?
Discuss on Talk Irvine: http://www.talkirvine.com/index.php/topic,3795.0.html
The Irvine Housing Overview: March 2013
Posted: 01 May 2013 05:00 AM PDT
The Altos Market Action Index (MAI) for Irvine's single-family homes is still climbing. When I checked in about a month ago, the MAI was 41.16. On April 19, the Altos MAI rose to 44.36. So the Irvine single-family housing market still climbs farther into what Altos defines as a seller's market. (Above 30 is defined as a seller's market; below is defined as a buyer's market.) Altos also states that the average single-family home in Irvine has been on the market for about 113 days as of April 19, 2013.
Altos Market Action Index for Single-family Homes in Irvine
Altos Research
Following is an update for the Irvine housing market as provided by Redfin.
| | | | | | |
| --- | --- | --- | --- | --- | --- |
| Type | List Price/# Homes Listed | Sold Price/# Homes Sold | List Per SF | Sold Per SF | % Chg Y-O-Y Sold Price/SF |
| Houses | | | | | |
| 13-Mar | $1,089K/94 | $820K/141 | $449 | $382 | 14% |
| 13-Feb | na/109 | na/272 | $415 | $354 | n/a |
| 13-Jan | na/113 | na/274 | $409 | $357 | n/a |
| | | | | | |
| Condos | | | | | |
| 13-Mar | $618K/105 | $460K/140 | $378 | $348 | 16% |
| 13-Feb | na/100 | na/301 | $369 | $325 | n.a |
| 13-Jan | na/106 | na/324 | $377 | $327 | n/a |
| | | | | | |
| All | | | | | |
| 13-Mar | $750K/206 | $616K/288 | $404 | $368 | 16.10% |
| 13-Feb | na/209 | na/573 | $389 | $334 | n/a |
| 13-Jan | na/219 | na/598 | $389 | $338 | n/a |
Posted: 30 Apr 2013 05:00 AM PDT
Supersized Single Family Turtle Rock Home with a View
19 Rimrock $1,650,000
As you turn off Turtle Rock Drive and head up Rimrock the Turtle Rock hills loom at the top of the cul de sac. To the left sits 19 Rimrock, a supersized single family home on a supersized view lot. Part of the Highlands Lusk community, Bonita Canyon Elementary, Chaparral Park and Turtle Rock Community Park are just down the hill. Meanwhile, out In back there's a million dollar view.
Being partial to natural settings instead of neighbors just over the fence and views that just won't quit, I could easily rate this home a 10. Having an 8,276 sq. ft. lot ups the appeal too.
Significant Numbers: This two story, 5 bedroom, 2.75 bath home is 3,153 sq. ft. on an 8,276 sq. ft. lot. HOA dues are $169; $/sq. ft. is $523. Built in 1977, it is a custom Tartan plan remodeled, and it has been on the market about 12 days.
CloseUp: Everything clicks as you walk up the steps, take in the perfect landscaping and step inside. To your left, the step down living room with high ceilings, fireplace, and French mullioned windows framed with custom silken draperies sits next to the formal dining room.
The dining room has a dramatic James R. Moder chandelier and French doors opening onto a side patio. Brazilian cherry wood floors, vaulted ceilings, skylights, and multi windows are well used here.
The mood ticks up another notch as you head to the back of the home, where a huge open space offers a sleek kitchen on the left with casual dining area overlooking the patio, and bar, and large family room with a massive dark cherry wood entertainment center on the right. The spectacular finish is the stunning backyard, patio view straight ahead. Lavish parties, family festivities, and any other occasion that you can think of, are practically inevitable.
A bank of French doors take you out to the patio, lawn areas and a sweeping view of Shady Canyon, Bommer Canyon and city lights. Nightcap or morning coffee anyone?
The main floor also has an office/study suite with French doors opening onto an adjoining exercise area. This two room space would also work perfectly for a small library, music or other hobbies. It could also be considered for a downstairs bedroom if needed.
Heading upstairs, the five bedrooms with two baths includes the master suite with views, dressing area, bank of cabinets and closets, shuttered windows, and double vanity. There is also inside laundry upstairs.
Specifics:
Bedrooms, 5
Baths, 2.75
Double garage
Association pool, spa
Forced air heating, central air
Detached, no common walls
Irvine Unified School System
What could be considered here? A stunning view, secluded Turtle Rock location, and a supersize 8,000 sq. ft. plus lot, and a 3,000 plus sq. ft. home will all be weighed against the price. Recently I saw a Woodbridge condo right on the water that was approaching $2 million in asking price. Down the street in Woodbridge there were two million dollar properties that sold the first week they were listed. This home rivals all of them and includes similar top flight schools and recreational facilities.
Who will be enjoying the view at 19 Rimrock? A good sized active family looking for top schools, a first class entertainment venue, and a family base will be drawn to this location and this home. A lot of the same qualities that draw families to Quail Hill are here in abundance, with quite a bit more space.
Recent Listings: 14 Southern Wood, $1,299,000; 52 Valley Terrace, $1,529,000.
Recent Sales: 63 Sierra Elana, $1,450,000; 59 Valley Terrace, $1,500,000
Discuss on Talk Irvine: http://www.talkirvine.com/index.php/topic,3780.0.html
Posted: 29 Apr 2013 05:00 AM PDT
This is real.
This is happening.
All a seller has to do is list, and the buyer will make him move.
In my blog "See, Spot, Buy or Sell" in January, I said "Shiller and Roubini have always given a pessimistic projection of the economy. But, in my opinion, when irrational exuberance begins, it's good to keep ourselves educated of things to come. We have not entered a bubble phase but with unemployment for Orange County at 7.0%, Dow Jones at 13,435, low inventory and buyer desperation, Irvine can expect a mini bubble this year." Looks like the bubble has here, and there is nothing mini about it! We have beaten the 2005/6 prices in some areas, and in some we are about to clear that hurdle. "Irvine is different" say our Realtors.
Maybe Irvine IS different. Different because it doesn't depend on local/state/national economy only- part of the real estate market is run by the foreign cash buyers who think with its stellar schools and safety, buying a house in Irvine for all cash is a better investment than anything else in the world right now. As an Irvine homeowner, it is tempting to list my house and make hay while the sun shines. But that would also mean taking my suitcase full of cash and moving to lesser desirable neighborhoods, unless we want to pay the same premium back to another property in Irvine. A lot of Irvinites are in the same boat. But trust me, it's an addiction, living in this city of white cars, math-music-martial arts classes and international grocery stores. Then there are schools.
Here is 196 Rhapsody, listed at a price higher than what the owner paid in 2005, when the house was built.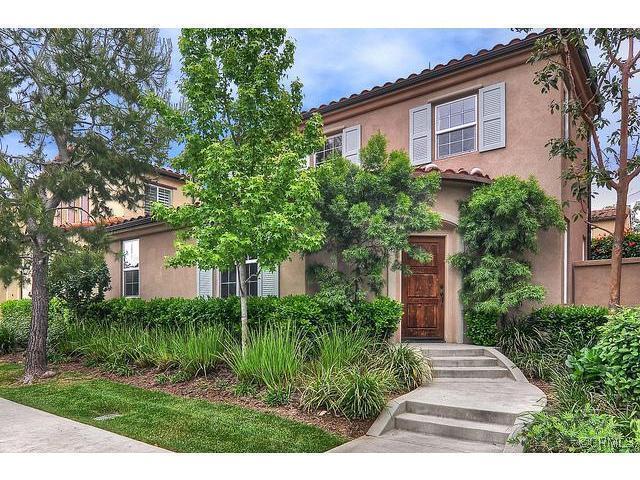 Listing Price: $650,000
HOA Dues: $203/mo.
3 Beds/ 2.5 baths
Area: 1,300 Sq. Ft.
Price/ SF: $500 / Sq. Ft.
Builders Tract Name: Cortile (WDCT)
Builders Tract Code: Cortile (WDCT)
Builders Model Code: 3
Property Type: Residential, Condominium
Community: Woodbury
Here are the highest Price/SF for the Cortile homes in Woodbury since they were built:
2006: $520/SF
2007: $524/SF
2008: $408/SF
2009: $420/SF (Lowest $347/SF)
2010: $441/SF (Lowest $347/SF)
2011: $409/SF (Lowest $330/SF)
2012: $406/SF (Lowest $306/SF)
Last Sale Price for the property: $532,000, in July 2005.
What do you think? Ready to move, or ready to make someone move?
I will let this bubble pass, watch it grow and pop from the sidelines, and may be write a "would have" "should have" post later. What about you?
Share your thoughts at Talk Irvine. While you are there, check out the thread "Newer listings in Irvine with..."
Open House Review: 87 Long Meadow
Posted: 25 Apr 2013 05:00 AM PDT
As I mentioned last week, I am reviewing 87 Long Meadow this week, another condo located just a couple of blocks from the one I reviewed last week (67 Great Lawn). Though the locations are comparable, the similarities end there.
The basics:
Asking Price: $598,000
Bedrooms: 3
Bathrooms: 3
Square Footage: 1,526
Lot Size: N/A
$/Sq Ft: $392
Days on Market: 13
Property Type: Condo
Year Built: 2005
Community: Woodbury
There are two sets of HOA dues, totaling $290 per month and there are Mello Roos taxes.
This three-story condo is on Long Meadow, one of the main entrance points to Woodbury. Like the property on Great Lawn, this one is also quite close to the intersection at Sanctuary. While it has the bonus of being a very short walk to the park, pools, Commons, and Woodbury Elementary School, it is a busy street. This condo, however, is set much farther back from the street and actually looks out onto an attractive courtyard. The courtyard has tables and chairs, benches, a fireplace, and a huge grassy lawn for kids to play in. Because the unit doesn't have a yard, having this courtyard right outside the front door is a big plus.
While the outside is very attractive, the inside of the unit definitely needs some TLC. The walls definitely need new paint throughout the entire unit and the floors are pretty scuffed up in parts.
When you walk in, the lower level actually has just a single room, bathroom, laundry room and garage access. Though it's marketed as a three bedroom, the downstairs room doesn't have a closet. It's also a pretty small room.
The downstairs bath has a single sink with white counters, dark cabinets, and a shower/tub combo done in simple white tile. The adjacent laundry room has overhead cabinets and access to the two car garage.
The second floor is actually the main floor and has the kitchen, living room and another bedroom and bath. I thought the staircase was a bit steep. Right at the top of the stairs is the dining area. It can probably fit six comfortably, but any more would be a tight squeeze. Extra guests could sit at the island's bar seating just a few feet away. The island, like the rest of the counters, is made from rather drab, gray Caeserstone. I also didn't love the travertine floors and thought the kitchen, as a whole, wasn't very attractive. It does have stainless steel appliances, including a combination range with a four burner stove and oven. It has three pantry-height cupboards and plenty of additional cabinet and counter space. I did like the tile backsplash and thought it was the nicest part of the room.
The kitchen flows directly into the living room, creating a true great room. Because the unit is sandwiched between two others, all the natural light in the room comes from the front side of the house, where there are two windows and French doors leading to a tiny, unusable balcony. The room is an average size with a white fireplace (no hearth) and a small cutout area for the TV. New owners could put built-ins there if they desired.
The bedroom and bathroom are down a hallway on the other side of the kitchen. The bathroom is nearly identical to the one downstairs, though flipped the other way. The bedroom is a nice size with a large window overlooking the back of the property. It has hardwood floors matching those downstairs. Rather than a traditional closet, one wall is almost entirely taken up by espresso-colored built-ins that include numerous drawers but only a very small hanging area. It works well for young children, but might not be ideal for older kids and teens.
A stairway in a corner of the living room leads to the third floor, which houses the master bedroom. It isn't particularly large, but a cutout area provides a nice place for a dresser and many may appreciate the privacy of being on the upper floor. This room is carpeted and has a ceiling fan. It has a big walk-in closet and a very spacious bathroom. The bath has travertine floors and plain white tiles surrounding the dual sinks, stall shower, and separate tub. A long, narrow balcony overlooks the central courtyard and could have room for a couple of small chairs.
Personally, I don't like the layout of this home. Having the kitchen and living room on the second floor is inconvenient and I don't like that each bedroom is on a different floor. I didn't think it was as nicely upgraded as most other newer homes and it needs a little TLC. While it is nicely offset from the street and doesn't back to either Long Meadow or Sanctuary, it is still a busy location. I have seen nicer condos and don't think I'd put my money on this one. Would you?
Discuss on Talk Irvine: http://www.talkirvine.com/index.php/topic,3760.0.html
Asking Price for Housing Increasing in Irvine: Case in Point—Willow Bend
Posted: 24 Apr 2013 05:00 AM PDT
The Irvine housing market, as well as most of the Orange County housing market, is heating up. That is not a new story, but to exemplify this we will take a look at what has happened to the price of homes in a new Irvine housing development.
The new development of Willow Bend in Irvine's University Park opened for viewing a few weeks ago. Three models are available to tour and buy if you qualify and like the price. So what is the price? In February, the asking price was advertised as "starting in the $900,000s." But the price is now stated as "anticipated to start in the low $1 millions."
A healthy housing market ladder allows non-cash buyers and first-time homebuyers to participate in the housing market without encountering extraordinary obstacles. These obstacles might include housing prices that are not in line with incomes and a market that includes a large number of investors who squeeze out potential home buyers. With that in mind, what do you think? Should we call this an example of a return to a healthy housing market or a dysfunctional market that distorts the housing market ladder?
Here are some additional details on the Willow Bend homes in Irvine's University Park neighborhood:
Images from http://lyonhomes.com/southern-california/willowbend
Residence 1
2,209 Square Feet
3 Bedrooms
2.5 Bathrooms
2-Car Garage
Office
Residence 2
2,394 Square Feet
4 Bedrooms
3 Bathrooms
2-Car Garage
Optional Loft , Optional Den
Residence 3
2,570 Square Feet
5 Bedrooms
3 Bathrooms
2-Car Garage
Optional Loft
You are subscribed to email updates from Irvine Housing Blog
To stop receiving these emails, you may unsubscribe now.
Email delivery powered by Google
Google Inc., 20 West Kinzie, Chicago IL USA 60610