---
BUS TOUR – Annual Mid Century Neighborhoods Bus Tour By Jack LeVine
Posted: 23 Oct 2012 02:06 PM PDT
Atomic Vegas Weekend – Celebrating Mid Century Architecture and Design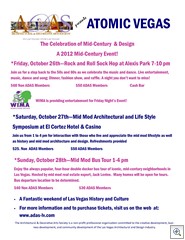 The Architectural and Decorative Arts Society of Las Vegas is holding it's "Atomic Vegas" weekend of events THIS WEEKEND October 26–28
Tickets to all events are available at the ADAS WEBSITE
Friday Night October 26 its a 50's SOCK HOP at the Alexis Park
Saturday Afternoon October 27 are panel discussions on Mid Century Architecture and Design. The symposium will be from 1 to 4 pm at the El Cortez Hotel meeting rooms (at the top of the staircase by the valet parking entrance).
The BUS TOUR of the Mid Century Modern Neighborhoods Of Las Vegas – Sunday October 28
SUNDAY October 28 is the annual bus tour of the Historic Mid Century neighborhoods of Las Vegas. Yours truly, Jack LeVine will be moderating and conducting the double decker bus tour. The bus will depart and return to the Sears parking lot at the Boulevard Mall. The tour starts at 1pm.
We'll be looking at neighborhoods on both the east and west sides of I-15. We'll be driving thru the neighborhoods of Paradise Palms, Marycrest, Francisco Park, John S. Park Historic District, The Las Vegas High School Historic District, McNeil, Glen Heather, Scotch 80s and the Rancho/Alta district .
We'll be stopping at 4 homes during the tour. The first is a Bill Krisel home in Paradise Palms. The second stop is at my house and the home next door. The last stop is the Sharp family home on Ashby in McNeil.
Please join us for any or all of these great events. Tickets are available at the Architectural and Decorative Arts Las Vegas Website