Here are the FeedBlitz email updates for titofofoqueiro@gmail.com
---
Foreclosure Philippines - The latest Buena Mano Car Bidding Bonanza runs until July 5, 2010

Here is the latest list of repossessed cars for sale in Buena Mano's Car Bidding Bonanza. The deadline for the submission of bids is on July 5, 2010. These second hand vehicles may be inspected at Buena Mano's stockyards from June 27 to July 5, 2010, from 8:30 am to 5:30 pm, except Sundays and Holidays. Opening of bids will be on July 6, 2010 at 9:30 am.
Please refer to the complete guidelines and list of cars for sale below.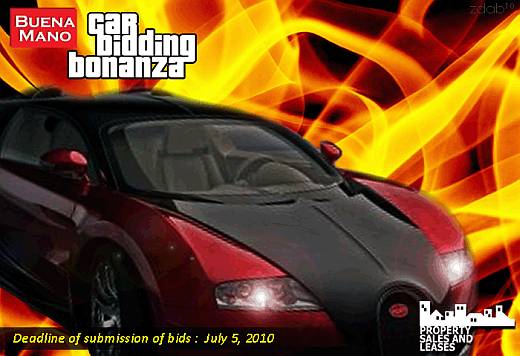 ** List of bank repossessed cars for...
This is just an excerpt, read the whole entry here »
More Recent Articles
---
Click here to safely unsubscribe now from "Foreclosure Philippines" or change your subscription or subscribe
---
---
Your requested content delivery powered by FeedBlitz, LLC, 9 Thoreau Way, Sudbury, MA 01776, USA. +1.978.776.9498