Here are the FeedBlitz email updates for titofofoqueiro@gmail.com
---
Foreclosure Philippines - Joint auction of PNB and Allied Bank foreclosed properties slated on August 5, 2010

A joint auction of Philippine National Bank (PNB) and Allied Bank foreclosed properties shall be held on August 5, 2010, Thursday, 2:00pm, at Business Inn, which is located at No. 28 South Lacson Street, Bacolod City, Philippines.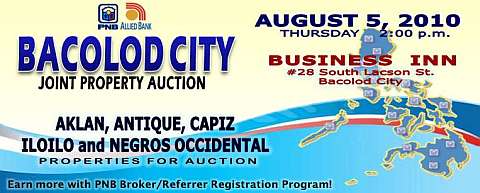 Enjoy up to 35% discount*, and as low as 8% interest rate*, and payment terms at up to 10 years to pay.
*rates may vary according the the market value of the property
** Listing of foreclosed properties
Included in this auction are properties from...
This is just an excerpt, read the whole entry here »
More Recent Articles
---
Click here to safely unsubscribe now from "Foreclosure Philippines" or change your subscription or subscribe
---
---
Your requested content delivery powered by FeedBlitz, LLC, 9 Thoreau Way, Sudbury, MA 01776, USA. +1.978.776.9498